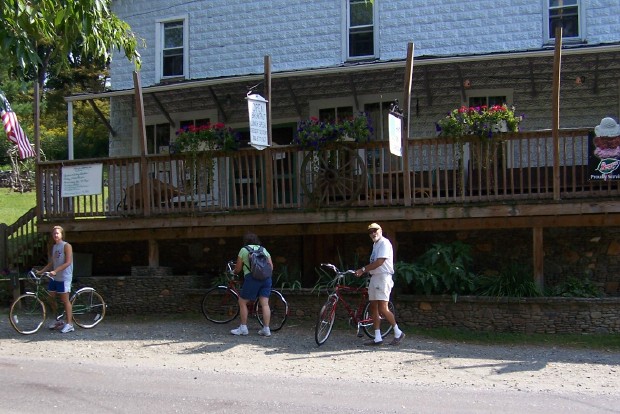 Bike Rides

Railroad Grade Road/Todd Rides: Railroad Grade Road (North Carolina's end of the old Virginia Creeper), is paved, relatively flat and runs for 10 miles along the scenic and pristine New River, between Historic Todd and Fleetwood, in Ashe County. Looping off the Railroad Grade, are several back country roads, paved or gravel, which vary in degrees of difficulty, with distances ranging from 6 to 15 miles.


"Just enough pain" is the slogan for this 100-mile loop ride through the mountains of Watauga and Ashe Counties. (A 50-mile option is also available.) The route features about 9,000 feet of climbing, including the steep slog up Snake Mountain. This well supported ride benefits the disaster relief fund of the Watauga County Chapter of the American Red Cross. The ride has won several Best Biking in America awards, including a well-deserved "Most Challenging" accolade in 1999. (828) 264-8226.
This loop ride through the mountains of Ashe and Alleghany Counties is billed as a century, but it actually clocks in at a little over 105 miles. The route includes 27 miles of the Blue Ridge Parkway and a short but brutal climb to a gap separating Bluff Mountain and Three Top Mountain. A half-century option is available. The ride has earned several Best Biking in America awards and a mention in Bicycling magazine. (336) 846-2787.
Drive Tours
Railroad Grade

A perfectly flat road located right in the middle of the High Country? That's right, and it's to be found along a ten-mile stretch which leads northward (in a meandering fashion) from "beautiful downtown Todd" to Highway 221, in Fleetwood. Called the Railroad Grade Road, the route is widely hailed as one of the Ten Best Bike Paths in all of North Carolina. This narrow stretch of road (watch out for cyclists) leads alongside the New River and through some of the most beautiful pastoral scenes to be found anywhere in the northwestern mountains. Todd is reached by traveling along Highway 194 north from Boone. For another route, take the Three Top Road on the other side of Highway 194 at Todd. This road takes you behind Three Top and Bluff Mountains for a "behind the scenes" look at mountain living – and some of the best mountain scenery in the region.

Fishing
License information

State resident licenses:

One-day inland fishing license - $5, plus $10 for a trout stamp

Yearlong, comprehensive inland fishing license, including trout stamp - $20

County license - $10, plus $10 for a trout stamp
Non-resident licenses:

10-day, inland fishing license - $10, plus $10 for a trout stamp

Yearlong, comprehensive inland fishing, including trout stamp - $40
Special trout fishing: Needed to fish in designated mountain trout waters, covers trout
fishing on game lands, and costs $10.
Lifetime state comprehensive fishing license: allows statewide fishing in all inland
public waters, including designated mountain trout waters, and costs $250.
Source: www.ncwildlife.org
Where to fish

Delayed harvest trout streams
Watauga County:

Watauga River (S.R. 1557 bridge to N.C. 105 bridge and S.R. 1114 bridge
to N.C. 194 bridge at Valle Crucis

Ashe County:

Trout Lake

Helton Creek (Virginia state line to New River)
Wild trout streams
Watauga County:

Dutch Creek (headwaters to second bridge on S.R. 1134)

Howards Creek (headwaters to lower falls)

Watauga River (Avery County line to S.R. 1580 bridge at Foscoe)

Elk River (below falls and half-mile above falls)
Avery County:

Anthony Creek

Birchfield Creek

Bucks Timber Creek

Cow Camp Creek

Cranberry Creek

Gary Flat Branck

Horse Creek

Jones Creek

Kentucky Creek

North Harper Creek

Plumtree Creek

Roaring Creek

Rockhouse Creek

South Harper Creek

Webb Prong

Wilson Creek (upper section)


Walking
Take A Walk In Todd

You might be walking in the hoof prints of elk when you take a stroll along Todd's new historic trail.

The Todd Community Preservation Organization has organized a walking trail, coupled with a map and brochure that gives information on the community that was once one of the largest and most-thriving communities in the mountains. The trail grew out of the establishment of the Todd Historic District in 2000, in a partnership between the organization, Handmade in America and the Blue Ridge National Heritage Area program.


The new Todd walking trail takes you by many sights in the community 's historic district. Photo by Mark Mitchell
The trail forms a loop near the "downtown" area and encompasses 15 notable structures of historic significance, including the early stores that opened when the community was a thriving lumber center with rail service. Todd Mercantile was opened as a cooperative venture in 1910, though it was closed for years in the middle of the last century. It now contains an art gallery and bakery. The Todd General Store opened in 1914, a year before the tracks reached the town. The Cook house, where the original owners lived, is beside the store and was home to the town's only mayor, Walter Cook.

The next stop is the "turntable" site, where trains used to turn around because Todd was the end of the line. The train would arrive at 3 p.m. and be kept ready through the night so it could roll out at 6 a.m. The Bank of Todd was built in 1918, when the timber industry created many jobs and a bustling local economy. The bank closed when a bank manager absconded with the funds, but the building remained and is now home of an art center. Two private residences are on the trail featuring a short detour on Carter Miller Road. A 1952-era post office building still stands, though it was used only 17 years. A garage and Blackburn's Chapel are also stops near the intersection of Railroad Grade Road and Carter Miller Road. The original chapel was built in 1860 as a log building, and its third incarnation is a block building dating to 1948.

The original train depot was destroyed by fire and its replacement, the Elkland Depot, was a station hauled in by train and served until the train tracks were removed in 1934. The building was used as a private residence for decades and moved twice before being restored. It now serves as an outdoor adventure and fishing company. The trail loops to Elk Creek, which feeds into the nearby New River, a designated National Scenic River.

The McGuire House, dating to 1920, served as a Baptist parsonage, and a chimney stack marks the remainder of an 1840s home. A dentist office dates from 1912 and was originally part of a hotel property. Like the dentist's office, it is across Elk Creek from Railroad Grade Road and the former hotel is now a private residence.

The brochure outlines Todd's history, dating back to 1781 when the first recorded trading post opened in the area, which was then called Elkland. The first church opened in 1833, followed by a post office four years later. The state legislature chartered the town in 1915 under the name of Todd, in honor of Confederate captain Joseph Warren Todd. The state revoked the charter in 1971, which reverted the town back to a community, though it still retains its own zip code.

The brochure also highlights other historic properties that lie outside the designated district. Three of them are on the National Register of Historic Places.

Brochures featuring maps of the walking trail and descriptions of the stops are available in local businesses. The Todd Community Preservation Organization is planning a formal opening of the trail in June.
The Mountain Times, Story by Scott Nicholson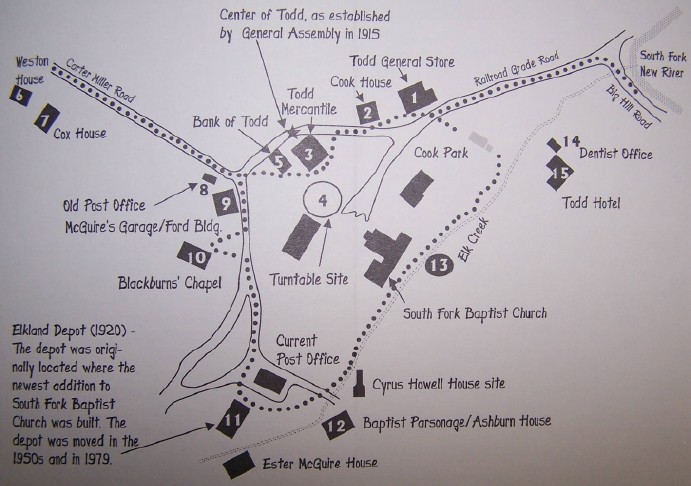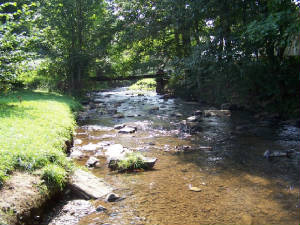 Water Sports
Appalachian Adventures
Located in Todd, River Girl Fishing offers affordable family fun along the headwaters of the New River in Ashe County. Canoeing, kayaking and river tubing adventures are designed for the whole family, from 5 to 75 years young, with trips ranging from one hour in duration to all day long. For those who would like a slower, more relaxed pace, the river tubing adventure affords you and your family the perfect opportunity to enjoy the peace and tranquility of the New River. For more information, call 336-877-3099.